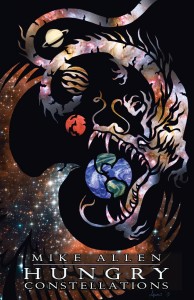 Last week I found out that my newest poetry collection,
Hungry Constellations
, is a
Suzette Haden Elgin Award nominee
. This is a relatively new award given by the Science Fiction Poetry Association for best poetry collection, chosen by member vote.
I considered Suzette a friend and I'm glad SFPA took a step to honor her memory.
Hungry Constellations
began as a reward offered through the
Mythic Delirium Kickstarter
in 2013. My gratitude goes out to
Dominik Parisien
, who sifted through 20 years of my verse to curate something extra special to present to the world. Thanks, too, to
Amal El-Mohtar
for an introduction that states pretty succinctly what my poetry is all about. And finally, thanks, to whichever SFPA member(s) nominated the book.
If you're a SFPA member and you'd like an ebook copy to read (or heck, if you're just someone who'd like a copy, it's not like I'm going to perform a background check) feel free to email me a request at
mythicdelirium@gmail.com
. The book is available in PDF, EPUB and MOBI formats.
I want to note, too, that among the other nominees, John Philip Johnson's comic-book-in-verse
Stairs Appear in a Hole Outside of Town
is a truly amazing, original creation, and I would love to see it win in its category.
#SFWApro
| | |
| --- | --- |
| Current Mood: | contemplative |