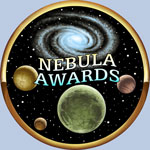 On behalf of all of us who work behind the scenes on
Clockwork Phoenix
, I want to voice heartfelt and exuberant congratulations to
Saladin Ahmed
(
saladinahmed
), whose short story "
Hooves and the Hovel of Abdel Jameela
" from
Clockwork Phoenix 2
is now a finalist for the
2009 Nebula Awards
. Saladin's tremendous achievement is made even more remarkable when you consider that "Hooves" is Saladin's second published story. He's a dynamic newcomer at the start of an extremely promising career, and we're proud to have given his award-nominated story its first home.
His accomplishment is also a momentous occasion for the
Clockwork Phoenix
anthology series. We wish to express our gratitude to all the members of the Science Fiction and Fantasy Writers of America who found Saladin's story worthy of this honor. I also want to thank the crew at
Fantasy Book Critic
, for making "Hooves" available for all to read and providing great promotions for both the story and the book.
Our publisher,
Norilana Books
, has set a high standard for quality of fiction from the get-go. 2008 was Norilana's first full year of publishing original genre fiction, and in 2009, Mary Rosenblum's novelette "Night Wind" from Deborah J. Ross's
Lace and Blade
anthology and publisher Vera Nazarian's own novella
The Duke in His Castle
were both Nebula Award finalists. We at
Clockwork Phoenix
are proud to carry that torch for Norilana this year.
Part of what delights me personally about this nomination — and I hope I can be forgiven for a dash of editorial hubris — is that though "Hooves" is now a contender for a major award, it is not the standout piece in
Clockwork Phoenix 2
; rather, the level of craftsmanship Saladin brought to his story is typical of the quality and creativity that all of the writers included in this anthology brought to the table, as evidenced by the fact that several other stories in the book also received votes during the Nebula nomination process. I'm proud of all my contributors. All of them have added to the ever-accumulating proof that in the realms of science fiction and fantasy, even in the small press, even in books available only through online sellers, exciting things are happening.
Congratulations to all the nominees, with a special additional cheer for
Clockwork Phoenix 2
contributor Catherynne M. Valente, whose young adult novel
The Girl Who Circumnavigated Fairyland in a Ship of Her Own Making
, originally published chapter by chapter on the Internet and now a finalist for the Andre Norton Award, is certain to both set and break all sorts of precedents.
We're eagerly looking forward to May 15, when we'll learn the results. Good luck to Saladin and good luck to all the nominees.
Mike Allen,
Editor
Clockwork Phoenix